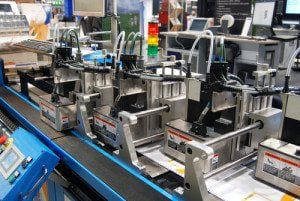 When it comes to the marketing mix, you have plenty of options, from television to radio to print. As a business, you will find direct mail promotion as one of the best mediums to market your business.  With something to hold and touch, printed mail still offers a different experience. Whether you are looking for targeting mailing or full market coverage mailing, Cliffe Enterprise can help.
Design, Print and Direct Mail Fulfilment Experts
Printed mailers continue to be an extremely effective way for businesses to generate leads and sales. It is extremely powerful medium to promote your brand. At Cliffe Enterprise, we have the experience and knowledge to process any mail piece, such as self-mailers, postcards, and inserts, ensuring we meet the UK Postal Service requirements and focusing on more accurate mail out options and improved deliverability.
We specialise in collating, labelling, sorting, coding, folding, sealing and bundling techniques and have access to cutting-edge equipment to keep a track of your inventory of printed materials while reducing overstock and waste. Our warehouse management experts ensure that the right mailing is delivered to the right audience, adding value to your direct mailing campaign.  We have the capabilities and experience to deliver your mail in time to the right customer, saving you time and hassle and reducing your costs.
Our Specialisations: Inkjet and Poly-Wrap
Our in house direct mail fulfilment facility has the capability to inkjet name and addresses onto the carrier sheets, enclose your brochure or catalogue into clear poly and then release it into the post stream. The polythene can be pre-printed in 4/5 colours and used as an advertising medium to sell to customers in the case of magazine publishers.
For larger and more complex direct mail fulfilment our providers have multiple poly-wrap machines. They can enclose a maximum of 6 inserts up to A3 in size per machine, plus they all have a magazine shuttle feed. Our direct mail fulfilment partners can release up to 250,000 packs per day into the postal stream. Inserts can be automatically nested into or on rested onto the main brochure/magazine. We are also able to enclose CD's, credit type cards and other awkward inserts with our integrated feeder. Heavier items, up to A3 in size, are enclosed using the friction gate feed. All machines are equipped with online inkjet to address the carrier sheets, onto the polythene or directly onto the main enclosure.
We can help you with simple to complex direct mail campaigns, we can do it all! Cliffe Enterprise is committed to meeting all of your direct mail marketing needs, with our experienced staff remaining current with the ever changing technological advances and UK Postal Service compliance issues. We pride ourselves on providing our customers with the most effective, efficient and economical warehouse management and direct mail fulfilment services.