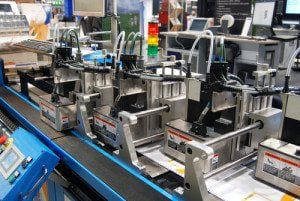 As a business, you will find direct mail promotion as one of the best mediums to market your business.  With something to hold and touch, printed mail still offers a tangible customer experience. Whether you are planning a targeted mailing or a full market coverage mailing, we can help with all your direct mail fulfilment needs.
Fulfilment Experts
Printed mailings continue to be an extremely effective way for businesses to generate leads and sales.  At Cliffe Enterprise, we have the experience and knowledge to process any mail piece. We will ensure that you meet what ever the distribution requirements are, so that your mailing or door drop is distributed cost effectively and on time.
We use cutting-edge equipment and software that enables us to produce, manage and track your printed materials all the while helping to reducing overstock and waste.
Inkjet and Poly-Wrap
Our direct mail fulfilment facility has the capability to inkjet name, addresses and mail-mark barcodes onto carrier sheets. They will then enclose your brochure or catalogue into clear poly with the carrier sheet and release it into the postal stream. Although there are alternatives to clear poly and carrier sheet mailing, this is still by far the most cost effective solution. There are alternative wrappers available such as envelopes or paper wrapping for example and we can advise you on those as well as the other options too. In all cases we will discuss with you the associated pros and cons for each type of wrapper.
For larger and more complex direct mail fulfilment our providers have multiple enclosing machines.  Our direct mail fulfilment partners can release up to 250,000 packs per day into the postal stream. Inserts can be automatically nested into or on rested onto the main brochure/magazine. We are also able to enclose CD's, credit type cards and other awkward inserts with our integrated feeders.
Regardless of the size or complexity of your direct mail campaigns, we can do it all! We are committed to meeting all of your direct mail marketing needs. With our experienced staff remaining current with the ever changing technology and UK Postal Service rules. We pride ourselves on providing our customers with the most effective, efficient and cost effective direct mail fulfilment services.
To talk to us about your direct mail requirements call us on 01323 419701 or email us at sales@cliffe-enterprise.com