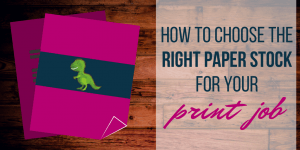 So, you've established that you have a requirement for print, you've created amazing artwork and you most likely have an idea of what the final item will look and feel like. So, what paper are you going to choose to achieve your project objective?
Choosing paper stock is one of the most important elements of your project's process, as it can influence many aspects of the final product – overall perception, reproduction quality, durability and mailing cost. Choose incorrectly, and you can spoil an otherwise great project.
What should be considered?
The main criteria you need to consider it its usage – What will you be using the printed item for?
If the item is going to be mailed then paper weight is a major consideration as this could mean the difference between one price band and another
Is the item aimed at a certain audience? For example the hard of sight need a matt or silk finish and not gloss.
Will it be used outdoors? Does the item require an additional coating or even waterproofing?
Will there be a perforation or tear-out section, in which case you'll need to look at thin, stiff paper.
Is the audience environmentally focused? The paper should then be a FSC accredited stock or of recycled content.
Next, you may want to consider its appearance
This is important as it affects its look, feel and printability. Consumers are influenced by the way the paper appears and in litho printing there are principally 2 types of paper used:
Uncoated and Coated Paper
These 2 types of paper are available in a variety of weights, sheet sizes and colours (depending on the mill, merchant of brand) and most will be available by a reputable printer who will have good relationships with the major paper merchants.
These types of paper lean towards certain types of printed item. We've given a general idea below, but this list is by no means exhaustive.
Coated paper
So, this paper has been coated with a substance that allows text and images to have denser colour and sharper detail. It can be coated on one side, both sides and in some instances have multi-layered coatings. Generally speaking, the more numerous the layers of coating, the better quality the paper type.  The coating provides either a gloss, silk or matt finish and these papers would mainly be chosen for:
Brochures
Magazines
Catalogues
Flyers
Postcards
Items you won't be writing on.
Uncoated paper
these papers are produced using rollers (calendared/ super calendared) during the paper making process to provide a smooth and polished finish, increase the paper density and reducing thickness. These papers have no coating and have therefore a non-glare surface and easily absorbent and soak up ink. It can have a textured feel but can also be smooth such as that you would find in your office copier or printer. Higher quality uncoated paper would be used for letterheads and compliments slips and items you need to write on, for example
envelopes
flyers
newsletters
a final product you can write on
Besides the 'feel' of the paper, another consideration is ink interaction – how does the ink perform on the sheet of paper?
It is always a good idea to ask for a printed sample of the paper you're wishing to use from your print supplier which will show how ink reacts to the paper in question.
We've already concluded that uncoated ordinary calendared paper ('calendared' being the process of smoothing the surface of paper) absorbs ink so the image being printed on the paper lies within the paper due to absorption. To achieve the same quality image as a printer would on a coated paper will mean more ink being used.  There is also a train of thought that users of uncoated paper are more conscious of the environment and their budget. Therefore, you will find that charities will opt for this type of paper when printing fundraising materials or stakeholder reports. The downside to using this type of paper is because more ink is required to achieve a good image, it can simply take longer than normal to dry. Due to the extra drying time needed before it can be used to complete the finished product, it means that uncoated paper is not ideal for quick turnaround work or urgent print jobs.
Uncoated Super calendared paper is similar to that of normal uncoated paper but with a few specific exceptions. Primarily, this paper can often be more expensive than using coated materials. This is due to the additional off-machine process which then provides a high gloss finish, and will be substantially more expensive than ordinary uncoated paper. As already mentioned, the amount of ink used to produce a sharp image is increased in comparison to coated paper, but due to the enamel like-finish produced through the additional calendaring process, images appear to lie more on the surface of the paper rather than in. This paper will take longer to dry before it is ready for finishing, so again, not ideal for urgent turnaround jobs and is most commonly used in corporate reports and high-end product catalogues due to its perception of being high quality and also in line with sustainability policies.
Matt or Silk papers are coated papers with a porous coating so the ink is absorbed into it. The final result is an image that lies on the paper but with a non-reflective, flat finish. This makes this paper ideal for brochures, product catalogues and company reports for those wanting to put across a message of understated quality and exclusivity. When printing on Matt or Silk papers it is advised that they are coated with a sealer varnish. This will ensure the image will not rub or mark when handled during the finishing process.
Paper with a Gloss coating produces a printed image that appears to sit directly on the paper and the result is vibrant, bright and shiny. From a print production point of view, it is considered to be the easiest material to use for printing as it generally has a quicker drying time that the other types of paper mentioned already. You will also find that this is a cheaper printing option than that of matt or silk paper as a sealer varnish is not required to be applied.
If you would like to talk to one of our paper experts about a forthcoming project or would simply like some free advice about which paper you should choose, then please do not hesitate in contacting simon on 01323 419701 or email simon@cliffe-enterprise.com